Welcome back to our street art blog! Today we'll talk about the artist Aakash Nihalani and his brilliant and playful artworks.
Aakash Nihalani: biography
Aakash Nihalani is an artist of Indian origins born in New York in Queens in 1986, who lives and works in Brooklyn. In 2008 he graduated with a Bachelor of Fine Arts degree from Steinhardt School in New York and in 2012 Lisa de Kooning assigned him a residency in Willem de Kooning's studio in East Hampton, New York. In 2013, Nihalani was commissioned by the Parrish Art Museum in Water Mill to create three temporary installations for the museum's exterior wall designed by Herzog & de Meuron.
Aakash Nihalani: tape art
Aakash Nihalani's tape art is characterized by the choice of scotch as a tool for his manufacturing technique. The colored adhesive tape allows the artist to create geometric shapes that give the illusion of three-dimensionality.
Under the spell of New York architecture, Nihalani reproduces in many of his interventions the repetitiveness of the rectangular blocks, characteristic of Manhattan.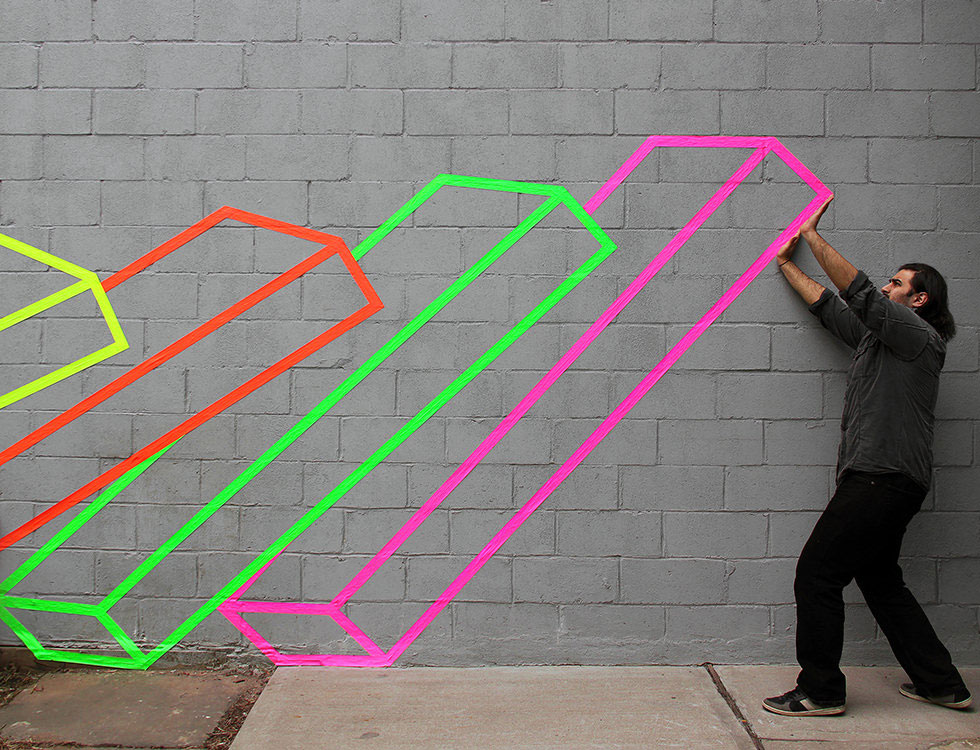 Aakash Nihalani: interactive art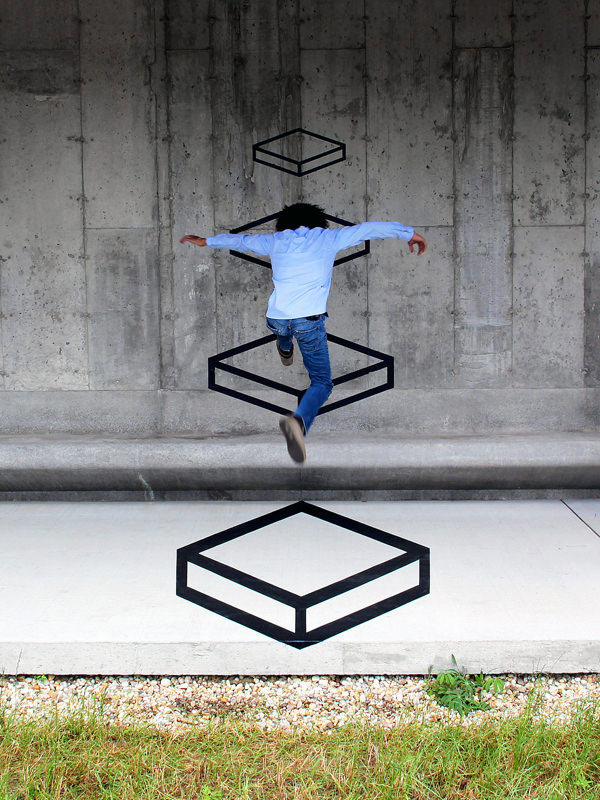 Aakash Nihalani's interactive installations are made such, in the space of a photo, thanks to the presence of a real person who favors the optical illusion, making it immediate to the viewer.
In Aakash Nihalani's artworks there is a lot of reliance on the people who watch, in fact, according to him, the work is completed only once the spectators interact with it.
The fact of working outside takes away the wait that exists between creation and exhibition, creating an immediate exchange with the public and giving the work its own life. Realizing his projects, Aakash Nihalani focuses on the game, grabs visual cues and creates openings with shapes and colors.
Aakash Nihalani's street art is minimal and geometric, honest and playful: it plays with architecture and awakens spaces. The intent of our artist is to capture the eye of those who frenetically run around the city and make them stop and appreciate the little things. And as the artist himself says, the more you look at the works, the more they acquire meaning.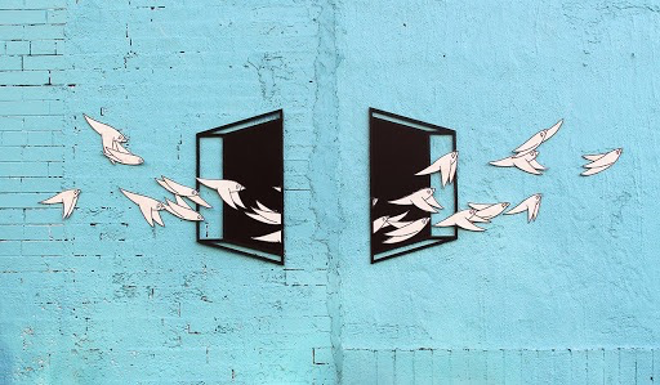 Moreover, the interaction with space is not lost in the passage between the inside and the outside, between the museum and the street, as long as there is an architecture to play with, whether on one side or the other, Aakash can see alternate shapes and realities.
Contact us at wunderkammern@wunderkammern.net or visit us in our galleries in Milan or Rome to find out more!