Here we are ready for a new episode of our column dedicated to collaborations between street artists and fashion!
Today's protagonists are the artist Honet and Lacoste L!ve. Their relationship has been intense and ongoing, they have created together a Capsule Collection and two lines of t-shirts!
Honet – Lacoste L!ve Capsule Collection SS2011
French graffiti artist Honet is an adventurer who explores cities and the boundaries between languages, travelling between street art and illustration. His spring/summer 2011 collection for Lacoste L!ve takes us into his world! A colourful and playful world, inspired by pop characters and the world of cartoons.
See how he has revisited the brand's famous crocodile!
Honet – "African series" and "Japanese series" t-shirts
But the collaborations don't end there! The following year, in 2013, Honet designed a line of African-inspired t-shirts and an animated video "Histoire(s) derrière le masque" ('Stories Behind the Mask) for Lacoste L!ve.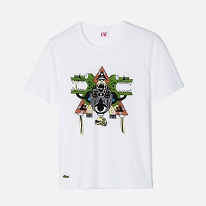 Finally, in 2014 the latest collaboration, a line of t-shirts inspired by Japanese manga!