Milan, Lodi and Pavia 2021
Let's discover Urban Art! In this article we are going to explore Milan and Lombardy through the interventions of the artist Biancoshock.
Biancoshock's installations want to provoke a strong reaction – a shock 😉 – and they always carry a message.
Here is a list of his interventions in Lombardy in 2021, starting from Milan!
No entry for unathorised people – Biancoshock
For the "Regulations Update" series, Biancoshock, armed with markers and a cutter, revisited a no-entry sign. A 45-degree rotation and a touch of blue colour was all it took to transform a stylised figure ordering people not to cross the gate into a drowning man.
The reference is to the closure of the ports and the consequences that can result from banning migrants from entering our country.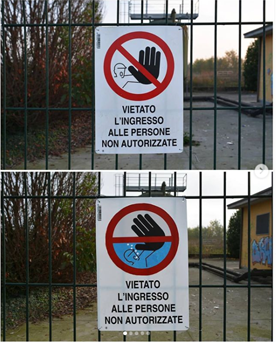 Try your luck – Biancoshock
Biancoshock's interventions often involve urban furniture and here is one of his latest inventions, a bin for the collection of used clothes transformed into a slot machine.
Due to the increasing theft of clothes destined for the poor, the system for opening the bins has been modified and made more difficult, so… Try your luck!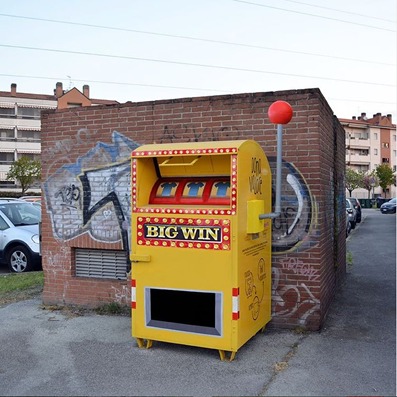 Slaveroo – Biancoshock
In the last year, our routine has changed and ordering lunch or dinner from home has become a habit.
Biancoshock reminds us that riders' working conditions are precarious and their rights poorly protected with a shocking installation! A concrete cube transformed into a thermal backpack complete with braces and provocative writing. The famous delivery company has a new logo: "Slaveroo".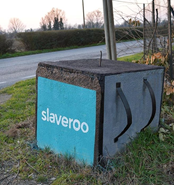 Let's leave Milan and find out Biancoshock's interventions in different cities in Lombardy!
Lambro Pharmacy – Biancoshock
This work is the result of a challenge given to Biancoshock by Harmen De Hoop, a Dutch public artist with whom he has been collaborating for years. De Hoop gave Biancoshock the task of creating a work on drugs.
Biancoshock chose a stretch of the Lambro river in Lodi and transformed a water maintenance structure into a pharmacy. What is the significance of this intervention you may be wondering?
Italian rivers are full of antibiotics and antidepressants that alter the behaviour of fish and other animals, so here is the Lambro Pharmacy!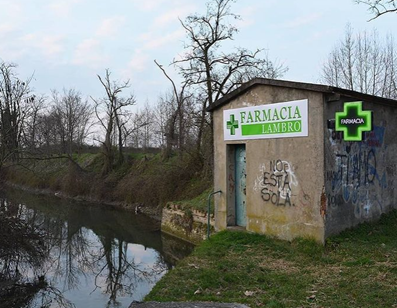 Big Win – Biancoshock
The latest intervention is Big Win in Pavia. Here too we are faced with a slot machine, but this time the combination is a winner – 777! – and large yellow coins came out of the counter. The slot machine was originally a gas control unit, can you guess the artist's message? 😉