JonOne x Guerlain: in 2016 Guerlain released the limited edition of three perfumes tagged JonOne.
The ancient perfume house joins our artist in an unprecedented collection of the legendary "aux Abeilles" bottles. In fact, the bottle was originally commissioned to the founder of the Maison in 1853, on the occasion of the wedding between Empress Eugenia de Montijo and Napoleon III. The bottle was adorned with 69 gold bees, the symbol of the Empire. Bees are now features of the line.
JonOne x Guerlain: a sensory collaboration
On this occasion, a colorful collection was born that features three emblematic fragrances of the Maison: Shalimar, Rose Barbare and La Petite Robe Noire. Guerlain gave free rein to JonOne who hand-decorated 98 one-liter bottles, creating unique, numbered and signed pieces.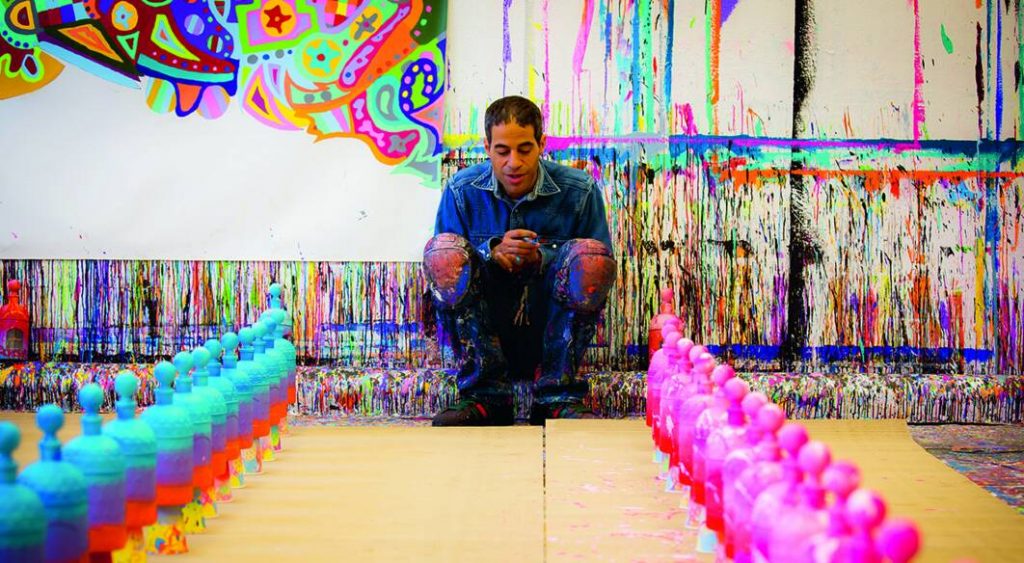 The olfactory experience is combined with the visual one: our artist has interpreted three different personalities through three universes of colors: with shades of blue he characterized Shalimar Extrait, he preferred an explosion of oranges for Rose Barbare Eau de Parfum, while to describe La Petite Robe Noire Extrait he chose a pink palette.
JonOne has created these real works of art in the creative laboratory of Guerlain's Exclusifs. The Maison had also organized for the occasion an exhibition dedicated to JonOne, exposing some of the artist's works in the Champs Élysées boutique along with the bottles for sale, which can only be purchased there.
The boundaries of street art are constantly expanding. The collaboration between Guerlain and JonOne is a sign not only of an increasing interest in street art, but also of the desire on the part of the Maison to reach a wider audience, aiming for a modernization of their image.