100€ invested in 2010 for a work by Shepard Fairey will be worth on average 438€ (+338%) in December 2020. (source: ArtPrice)
We are sure we have impressed you with this sentence 😉
Even when you buy an artwork for love you pay attention to your investment, therefore we decided to tell you about the market of Shepard Fairey – Obey Giant – one of the world's best-known street artists.
2008 – a year to remember
2008 was a very important year for Shepard Fairey's career: Hope, his poster portraying Barak Obama, became the symbol of the American electoral campaign and spread all over the world; in the same year, his works began to be sold at auctions. From that moment on, Shepard's success continued to grow and consolidate.
Constant growth
Since his first auction sale, his turnover has been growing steadily, which is extremely positive for the artist and his collectors, who know that the value of their works will increase and that prices are not dictated by a passing fad.
Shepard's market success has been accompanied and sustained by success among art critics and institutions. In 2009, the ICA in Boston hosted his first museum exhibition and in 2020 inaugurated his first solo exhibition in Italy at the GAM in Rome, "Shepard Fairey – 3 Decades of Dissent".
Guess what Obey's auction record is? It could only be Obama Hope! An acrylic and collage version on canvas sold at Sotheby's in New York for $480,000 in October 2020.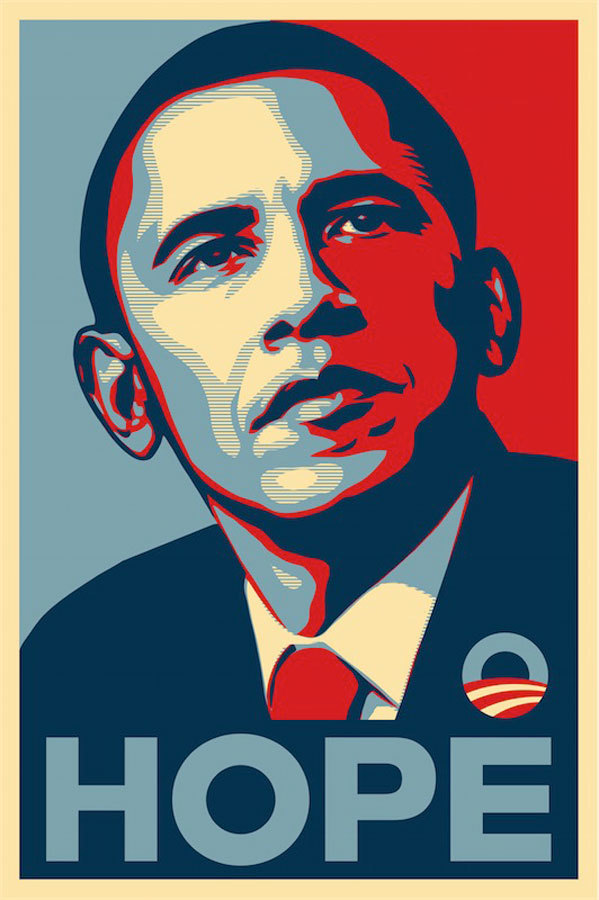 Shepard Fairey – works for sale
If you know Shepard Fairey a little bit, you will know that he is always in favour of democracy, also in the arts. Obey believes that art should belong to everyone, which is why he founded a streetwear brand – OBEY – that allows everyone to wear his creations.
One of the particularities of his market is precisely this aspect. Unlike many artists who sell a small number of works at stellar prices, Shepard Fairey sells many works at moderate prices. These are mainly multiples, such as prints and serigraphs, which reproduce his subjects that we can encounter on the streets of big cities.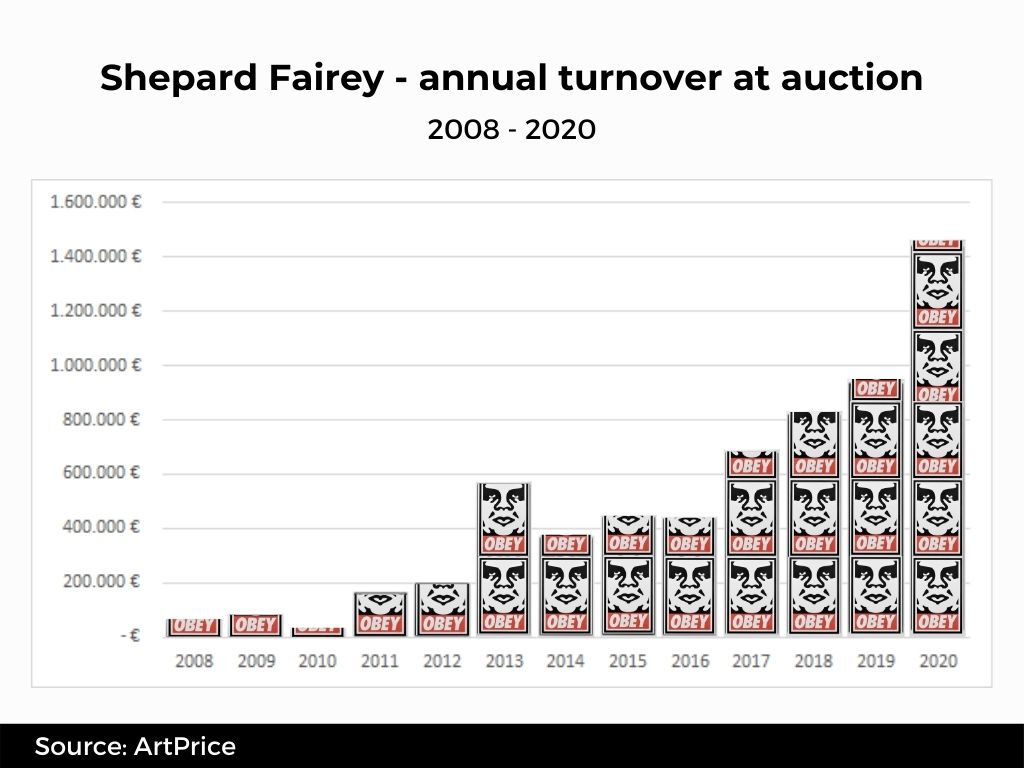 In short, a work by Shepard Fairey is a good choice for its artistic but also economic value!
Keep following us if you want to know more about our artists' market!