Good morning Street Art Lovers! Are you ready to discover another curiosity about the artist Shepard Fairey?
Over the past few months, our artist Shepard Fairey (OBEY) met the team of the US toy company Mattel in his LA studio Studio Number One, and together they created an incredible collaboration: Shepard Fairey X UNO.
The famous card game UNO, which we all know and have enjoyed since 1971, has changed his look: for this limited edition it has worn the artwork of our urban artist.
A deck of 112 UNO cards in the unmistakable OBEY style, all with illustrations on the theme of environmental responsibility. For our artist, protecting the environment is really important!
With the help of packaging designer Michelle Compton, Fairey was able to create the first deck of UNO cards that follows the concept of UNO Nothin' But Paper and it is therefore created entirely by sustainable materials… goodbye cellophane packaging 🙂
But that's not enough! For this project Shepard has also decided to collaborate with Ocean Conservancy, a non-profit organisation committed to protecting the oceans, to which part of the proceeds will be donated.
Shepard Fairey: art for UNO cards
UNO, a card game that always amazes, is no different with this artist's deck… the surprises are not over but hidden in the details.
OBEY's style is recognisable in the typical colours black, cream, and red and in the element of repetition: look carefully and you will notice that on the package the words "Card Game" and "Artiste Series" are repeated several times just as the stickers were repeatedly stuck on the streets during Sherpard Fairey's Street Art campaigns. Iconic subjects such as André the Giant, Marianne, Rose Shackle and the famous Star Icon are featured on the faces of these cards, making them truly unique.
Our artist has also created four special double-sided cards that, when placed correctly, they will reveal two of his works of art. Aren't you curious to know which ones?
And finally, one last interesting fact… a woman's face appears on some cards, do you recognise her? It's his wife Amanda Fairey 🙂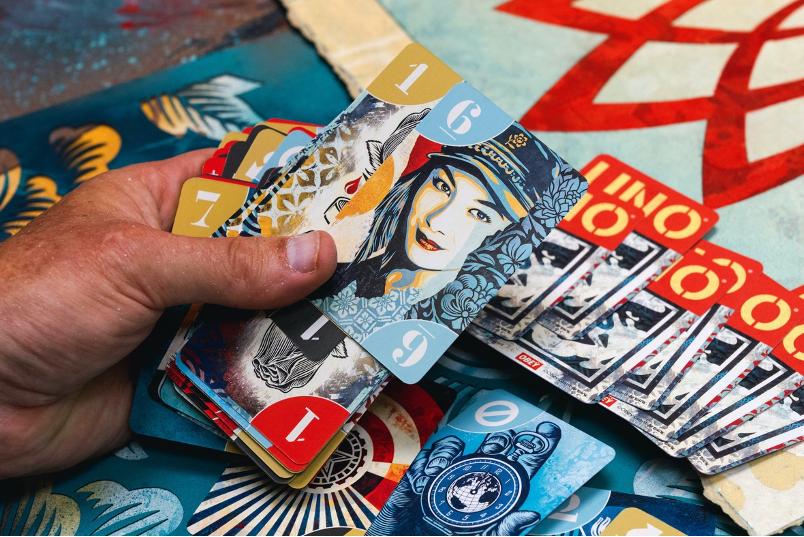 UNO Artiste Series
If you're a true UNO fan, you definitely won't have missed the other collaborations of the UNO Artiste Series launched by Mattel in 2019.
Jean Michel Basquiat was the first artist to have a deck of playing cards dedicated to him. Then Mattel created a deck of UNO cards featuring the works of Keith Haring, street artist active in New York in the 80s, and one dedicated to the contemporary African-American painter Nina Chanel Abney, who designed the works depicted on his cards especially for the occasion.
The UNO Artiste Series: Shepard Fairey is the last deck in this collection, don't miss it!
For more curiosities keep following our Street Art blog! 🙂