Welcome back to our Street Art blog!
If we say Aielli, what comes to mind?
No idea? Let's find out together!
Aielli – history
Aielli is a small medieval village in Abruzzo that stands on a rocky spur inside the Velino-Sirente Regional Park. Its history is very complex: in the 14th century all its castles were destroyed and centuries later an earthquake devastated the whole village, which was rebuilt at a lower altitude. That same village has now been transformed into an open-air Street Art museum! Let's see how it happened 🙂
Aielli, Borgo Universo
It all started in 2017 when for the first time in the village the Street Art Festival Borgo Universo was organised with the aim of starting a process of revitalisation of the village through art and stars. A nice idea, don't you think?
In summer, for the last five years and for about four weeks, Aielli has been celebrating and its streets are filled with installations, music, exhibitions, workshops and street artists from all over the world who paint large murals. New Street Art works are added every year, and among those by Okuda San Miguel, Ericalcane, Gio Pistone or Millo… there are also those by Never2501, Sam3 and Agostino Iacurci: our artists!
Never2501 – Light Room 2017
On the side walls of two corner buildings, artist 2501 has created a play of black and white lines. It is Light Room, the artwork he painted during the first edition of the festival in 2017. What is very curious is that the lines, so typical of 2501's style, this time were created from the reflection on the wall of the sun's rays projected by some mirrors.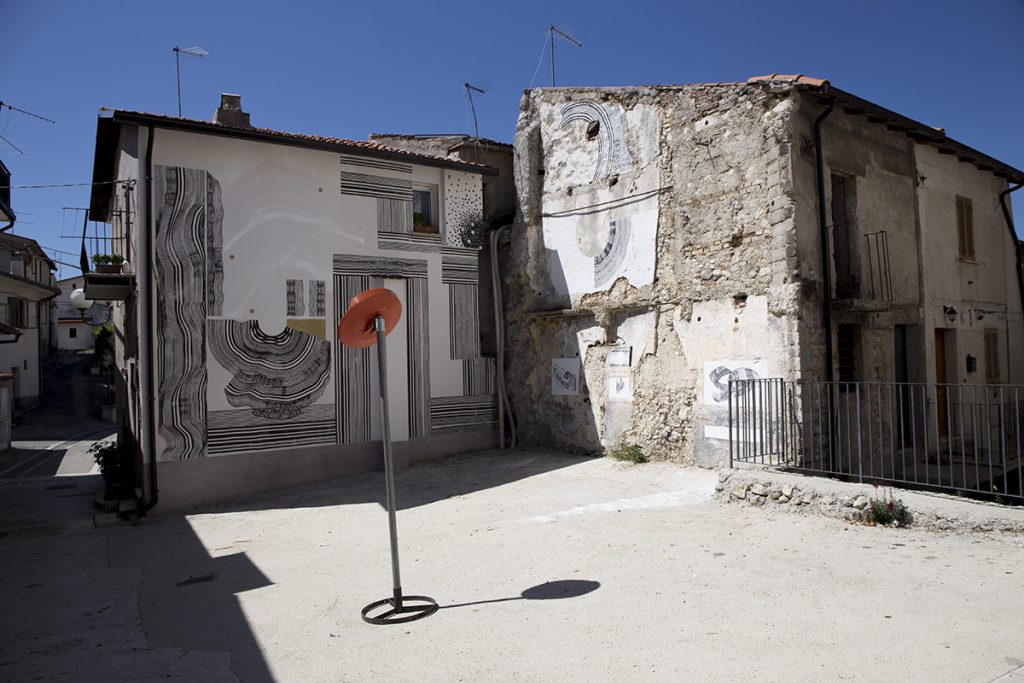 Sam3 Street Art – Árbol solar 2020
The Árbol solar designed by Sam3 has large roots that seem to really sink into the ground and long branches that reach out towards the stars and planets, it really seems to connect the earth to the sky!
It is a perfect work for a village like Aielli, which is also famous for astronomy. The astronomer Filippo Angelitti was born here and the Torre delle Stelle, an astronomical observatory in a medieval tower, is also located here.
But let's go back to the mural: do you notice a certain similarity between the tree trunk and the tower of the observatory?
Agostino Iacurci – Cardi (1571-2021) 2021
For his mural, street artist Agostino Iacurci took inspiration from the land of Abruzzo and its traditions; it is as if Iacurci had wrapped Porta Nuova, one of the city's oldest gates, in a warm Abruzzese blanket. Let us explain: the typical wool blankets of Abruzzo are red-blue and have a weave with geometric and floral motifs exactly like the colours and designs depicted on this wall. In addition, the plant the street artist has chosen to paint is a thistle, a local vegetable. Brilliant! 🤩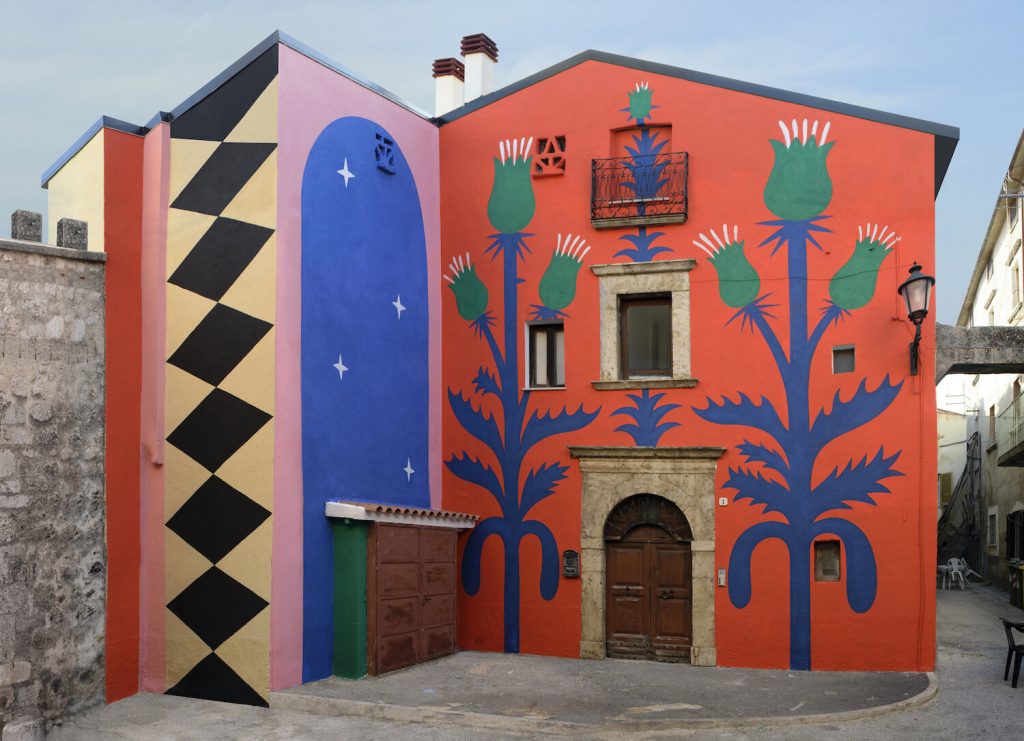 Please take note and put a visit to Aielli on your calendar for next summer!
Keep following us for more updates and do not hesitate to contact us for any curiosity at the e-mail address wunderkammern@wunderkammern.net 🙂
Have a nice day Street Art Lovers!