From the New York Times to Le Figaro, the story of this painting has gone around the world!
The facts – A young couple defaced a painting by urban artist JonOne
A few days ago, on March 28th, a young couple in their twenties vandalised "in good faith" a painting by JonOne, artist with an energetic and abstract style. The work in question – Untitled – was on display at the Lotte World Mall in Seoul in the Street Noise exhibition, along with the brushes and cans used by the artist to create it.
The couple, seeing colours and brushes lying on the ground in front of the canvas, thought it was a participatory art project and decided to leave their contribution painting three dark green marks.

Surveillance was not present at the time of the incident, but they quickly noticed the new brushstrokes. Thanks to the security cameras, they identified and arrested the couple who were still inside the mall. Since this was neither a deliberate nor a conscious act of vandalism, the police released the guys without disclosing their identities.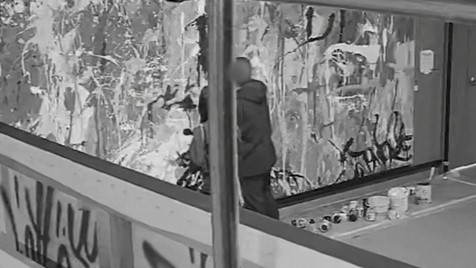 And now?
The artist, insurance company and restorers have been contacted. The painting, valued at $440,000, can be restored and the cost would be around $9,000. If the artist decides to press charges, the insurance company could award a portion of the restoration costs to the young couple.
What does the artist, JonOne, think about this?
JonOne is disappointed and angry: "Art should be religious, you don't paint on a church". He said that this episode made him feel like when he was a boy, living in New York and making his tags on the walls of the city, but his art was neither understood nor appreciated. For the artist, the work should be restored as soon as possible, before the closure of the Street Noise exhibition.
However, no decision on the restoration has yet been taken. There is an interesting debate going on in Korea, with many believing that the young couple's brushstrokes should not be removed, as these misunderstandings are also part of contemporary art and make the work even more unique.
And you, what do you think about it? ?