Perhaps not everyone knows it, but in Rome, at the Palazzo della Farnesina, which is the headquarters of the Italian Ministry of Foreign Affairs, a very precious collection of artworks is kept!
The owner of this collection is the Ministry of Foreign Affairs and International Cooperation. The collection contains a collection of works of Italian art from 1900 until 2013 and was curated by the art critic and historian Maurizio Calvesi.
It is a very important collection because it traces the history of modern and contemporary Italian art, including many currents, such as Futurism, Transavanguardia, Abstractionism and Arte Povera. Another peculiarity is the fact that these works are representative of different languages! In fact, we find paintings, sculptures, but also videos and mosaics. Some names? We are talking about works by Emilio Vedova, Umberto Boccioni, Mimmo Paladino, Jannis Kounellis, Giorgio De Chirico, but also works by Giacomo Balla, Alighiero Boetti and Giulio Paolini. In short, the palaces of Rome preserve great treasures, but this is without doubt one of the least known.
In this regard, probably not everyone knows that the Farnesina Collection has recently acquired works of Street Art. Among the most important ones, in fact, is the work Paesaggio Urbano V by Sten Lex, one of the most appreciated urban artists in the world. The great cultural value of their works has therefore been recognized. Well done!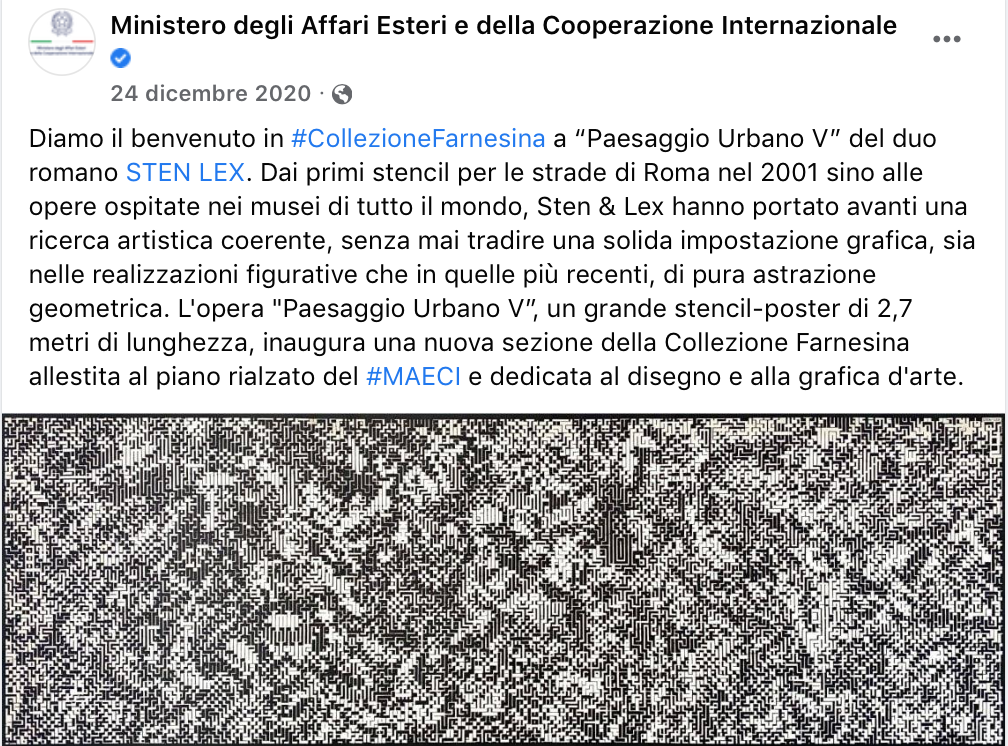 Not only Sten Lex, but also the talented illustrator Emiliano Ponzi is part of this collection! With his collection of plates Chronicles from the red zone, made for the Washington Post during the lockdown due to the COVID-19 emergency from.
The collection is available on the Farnesina website but also through the Google Arts and Culture platform.
What are you waiting for?😊