New York, late Seventies, a night like any other. Someone breaks into the study of a young Cooper Union for the Advancement of Science and Arts student and vandalizes his works.
The protagonist of this story is Dan Witz, a boy from Chicago who moved to New York to fulfill his dream of becoming an artist. What did his works represent to evoke such a reaction? No provocative subjects, only realist paintings, less unconventional than one might expect.
Dan Witz art: tradition and revolution
If today we are not surprised in front of a realist painting, at the end of the Seventies choosing to paint figures with the design, color and light of the great masters was a rebellious choice. Abstract and minimal works were exhibited in galleries and museums and traditional painting were considered outdated means of expression.
Dan Witz art is revolutionary not only for its courage to go against the tide, but also for its ability to reinvent the technique of oil painting. To paint his Mosh-pits, punk-rock concert scenes made up of extreme music and dance, Dan participates in first person, immerses himself in the crowd and takes his photos. Back home with some bruises and burns, he edits and combines different shots to create his composition; finally, he creates the work. Starting from a digital reworking, Dan paints his figures giving them movement and light directly on canvas.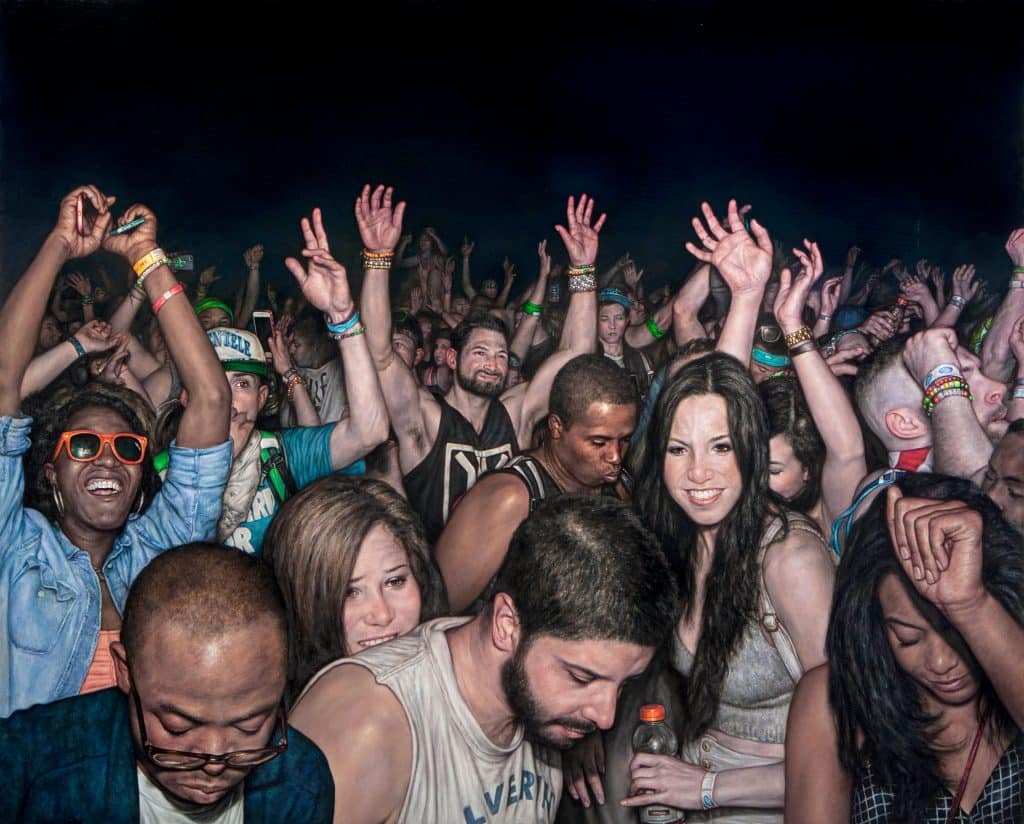 Dan Witz: Street Art
After the night of the attack at his studio, Dan Witz created his first "illegal" artwork on the walls of the Cooper Union, inspired by the graffiti and tags that passed under his eyes on subway cars every day, but as much as he was fascinated by them, Dan felt that the style of writers did not belong to him. His first Street Art project – Birds of Manhattan – consisted of little hummingbirds painted in glittering acrylic colors on the walls of New York's streets.
Dan wants to reach and surprise people with his art. How, if not by painting in the streets? Dan Witz Street Art production touches on social and political issues but retains the realist style of the great masters.
Following the rhythm of the seasons, Dan dedicates himself to studio works in the colder months and to outdoor interventions in the milder seasons; as Rembrandt practiced painting and engraving and Degas painting and sculpture, Dan Witz masters oil painting and Street Art and finds his balance in these apparently distant practices.