Today we want to tell you the incredible story of Doze Green, who in addition to being a great artist has a past as a great dancer!
The street artist Doze Green was born on the Upper West Side of Manhattan and grew up in the New York of the 70s. Today he is one of the major exponents of the Urban Art movement, and has exhibited his work all over the world.
But how does our Doze Green begin? Simple, with a primal art form: dance. In the years of his youth, in particular, hip hop was the most popular movement on the streets of New York. 
The Rocky Steady Crew
He joins the legendary The Rock Steady Crew, creator of a new style of dance, known as breakdance.
The Rock Steady Crew was born in 1977 thanks to Jimmy Lee and Jimmy Dee, B-Boys from the Bronx. But who are the B-Boys? It is the term that indicates the breakdancers!
The best B-Boys of course were part of this group, and whenever someone wanted to join, he had to challenge one of the members to a dance-off and beat him (it almost never happened!).
The crew began performing at art galleries in the Lower East Side and Soho neighborhoods, attracting large audiences.
In 1981, the group achieved international fame by appearing on television and challenging the Dynamic Rockers, another very strong crew. The Rock Steady Crew also appears in films such as Flashdance, Style Wars and Wildstyle!
Today, the members of the Rock Steady Crew come from all over the world and belong to different artistic fields, such as skaters, artists and djs.
Urban artist Doze Green will always take inspiration from the dynamism and energy of breakdance making unique and special works.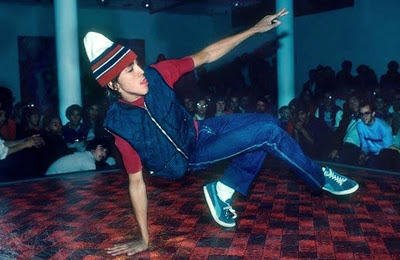 See you next time! 🙂