Let's discover subvertising interventions by Hogre. Rome is the city where his career began in 2007, but the street artist is now famous throughout Europe for his biting irony.
Subvertising: What is it?
Subvertising = Subvert + Advertising
Subvertising is an artistic-political movement that expresses itself through the creative vandalisation of advertising space. Subvertising means intervening on advertising posters by altering the original images and rewriting them in a completely new, even ironic or sarcastic key. With this practice, Hogre aims above all to question the management of public space and of the very images used in advertisements, trying to reveal all the mechanisms underlying the culture of mass society.
Subvertising: Techniques
"I started in 2007 with traditional graffiti and stencils. My approach to street art was related to the act of pestering private property, it was politicised from the beginning […] Moving on to subvertising, I changed medium, but my attitude is still the same.
Source: Interview with Hogre – Global street art (2017)
Since his beginnings in the world of Street Art, Hogre has translated his thoughts into images created with stencils and spray cans on the walls of Rome. Today, however, although these tools are always present in his work, he often replaces the wall with the paper support of large posters that appear on billboards in the street. But how does he intervene on them? In some cases he tears down existing posters or picks out the already torn ones and then superimposes subvertising on them, as in this 2016 intervention in London.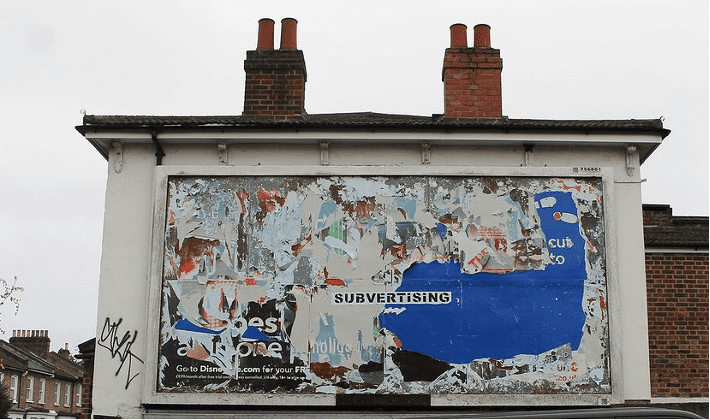 In other cases, however, the technique is to replace large brand advertisements with their own graphics that turn out to be similar in design to the original ones, but completely distorted in their message. An example is the under-glass posters found at bus stop shelters or the large billboards posted around cities.
Do you recognise the parodic play underlying these subvertising interventions by Hogre?
Hogre: subvertising between street and gallery
"An image that is not seen is a dead image."
Source: interview with Hogre – Face Magazine (2022)
Street artist Hogre's work doesn't end with his interventions on the streets; part of his artistic production in fact concerns smaller-format works intended for display in museums and galleries. In doing so, Hogre allows the ephemeral nature of advertising and the lasting nature of the artwork to coexist in his works, leaving a permanent mark of his thinking.
This is what happened with the exhibition Hogre. Antologica 2007/2022, held at the Roman venue of Wunderkammern, where Hogre's entire artistic career was retraced through his most significant works, many of which you will surely have already seen on the streets!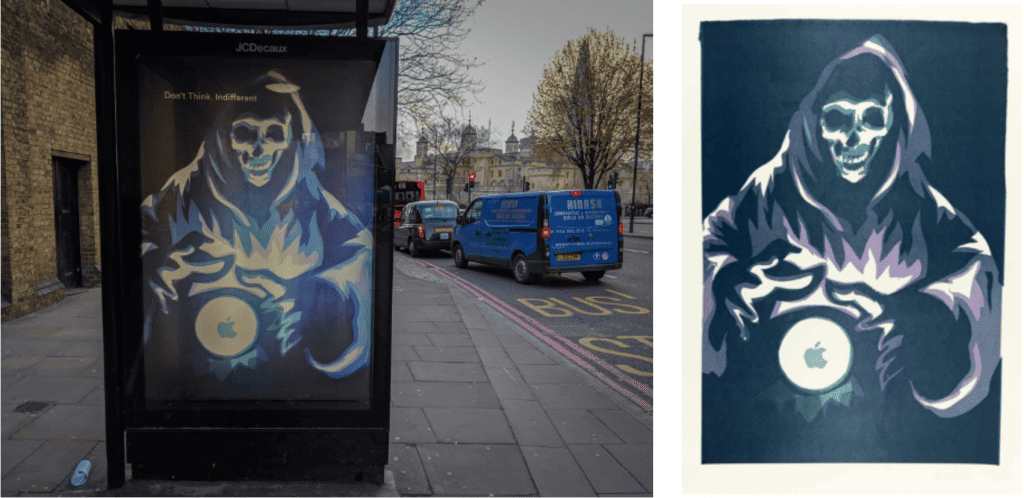 If you have any other curiosities about Hogre's works, don't hesitate to write to us at our e-mail address wunderkammern@wunderkammern.net or visit us in our Milan and Rome venues.
Keep following our Street Art blog to keep up to date with our artists🤩