Good morning Street Art Lovers☺️
Here we are with news: street artist Shepard Fairey has created his first wall in Brazil! Last September, Obey and his team took part in the NaLata International Urban Art Festival 2021 in São Paulo.
Years ago, while walking through the streets of Miami, the American street artist met Luan Cardoso – the festival organiser – who warmly invited him to take part in the event and join other artists including Doze Green and PichiAvo… This year Shepard accepted the proposal and came up with a huge project: two 8-storey high and approximately 23m wide walls to be painted in just 5 days with more than 400 spray cans!
Carga Frágil (Fragile Cargo, referring to the ecosystem of course 😉) is Shepard Fairey's new mural about justice and in particular the need for environmental justice to keep the Planet healthy for future generations. The project was designed specifically for Brazil, after all the Amazon Rainforest, the green lung of the world, is located there!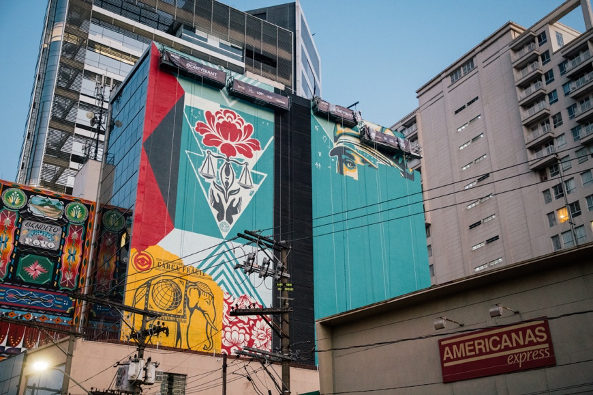 Did you know that in São Paulo there are numerous works of urban art because traditional outdoor advertising such as billboards or commercial signs is not allowed? This allows artists to express themselves freely with a large number of murals, and Shepard was no exception with his message of hope🤩
So, if you're ever in São Paulo, check out as many murals as you can, but don't forget to go to 2767 Teodoro Sampaio Street to see the latest Street Art work by Shepard Fairey (Obey).
Keep following us on our Street Art blog to stay up to date!
Have a nice day✨