Good morning Street Art lovers!
Today we bring you a new insight into the work of one of the most important street artists on the international scene.
American, born in the 70s, famous for the sticker campaign André the Giant has a posse, do you understand who we are talking about? We are talking about Shepard Fairey (OBEY) and specifically we want to tell you the story of St. Mark's Horses.
Shepard Fairey: works in Venice
You should know that Shepard Fairey visited Italy for the first time in May twelve years ago: it was 2009 and the 53rd Venice Biennale was underway.
The two-week stay in Venice was intense for the American street artist who was called on to paint the sheets covering the scaffolding of many open construction sites in the city, produce murals and new paintings which, after being exhibited in famous places in Venice, were put up for auction.
Obey, a supporter of art, was delighted to accept the invitation from Sms Venice, a non-profit organisation dedicated to safeguarding the lagoon's artistic and architectural heritage, to donate the proceeds of the auction to the restoration of a number of public buildings.
Shepard Fairey: prints for Venice
"I'm donating 6 fine art pieces and all these installations to raise money for the restoration of Venice. The image with the horses and tower will be a print edition to raise money"
Shepard Fairey
Reference: obeygiant.com
With these words, Shepard refers to St. Mark's Horses, a screen print in an edition of 250, signed and numbered!
Conceived as part of the initiative promoted by Sms Venice, the print is a tribute to Venice: on the left, the horses call to mind the golden copper quadriga positioned on the terrace of St Mark's Basilica, while on the right, St Mark's bell tower stands out.
A truly unique subject in the artistic production of our street artist, who is usually inspired by cultural and political figures and very rarely by architecture!
A work for Venice could only be printed in Venice, and not by chance at a historic Venetian art workshop specialised in the silkscreen technique. It is undoubtedly one of the most important in the lagoon, since before Obey Giant, Arnaldo Pomodoro, Emilio Vedova and Mimmo Rotella also relied on the professionals at the Fallani Venezia workshop.
Any more technical details? It is a two-colour silkscreen (black and red) printed on suede-coloured paper, more precisely on Fedrigoni Modigliani 260g paper, whose texture is reminiscent of orange peel.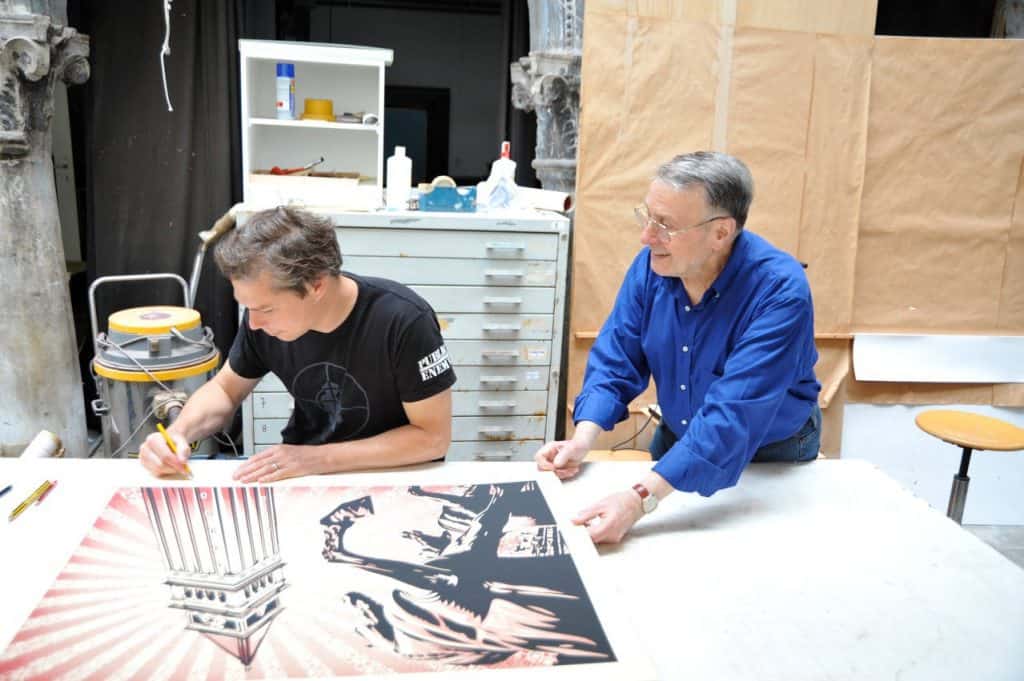 Imbued with the romantic atmosphere of Venice and the creative genius of Shepard Fairey, this Street Art artwork is part of our special Christmas selection, a perfect gift for fans!
Visit our e-commerce to discover more 🌐
If you have any other questions, don't hesitate to contact us at wunderkammern@wunderkammern.net and to stay up to date keep following our Street Art blog! 😊