The artist we will present to you today is one of the greatest internationally renowned street artists. With his unmistakable style, D*Face has become famous all over the world.
Dean Stockton, aka D*Face, was born in the British capital, but the American dream between skateboarding, hip hop, punk and rock music will accompany him throughout his young age.
Influenced by skate and graffiti culture, he began studying illustration, animation and graphic design which inspired his dysfunctional characters, represented in his works. Initially he begins by invading cities with stickers with the characteristic figures of his art, then he begins to use huge canvases where he combines the culture of street art and pop art.
With his distinctive fusion of pop culture and graffiti combined with a rebellious streak and ingenious imagination, London-based artist D*Face has become known for his cultural critiques that give rise to his unique style.
The aPOPcalyptic art
"aPOPcalyptic" art is a blend of "pop art" combined with the fragility of life, the artist in fact reflects in many of his works the ideals of the American dream and the notion of "good" that triumphs over "evil". It aims to encourage the public not only to 'see' but to look at their surroundings while also reflecting on the increasingly bizarre fascination with celebrity, fame and consumerism. In his rethinking and subverting the popular imagination, he uses iconic motifs and cultural figures, all reworked.
Inspired by commercials, classic films and comics, the artist plays on this expectation of TV show predictability by defacing and reconstructing the images we think we know and trying to break that comfortable and knowable cycle of nostalgia.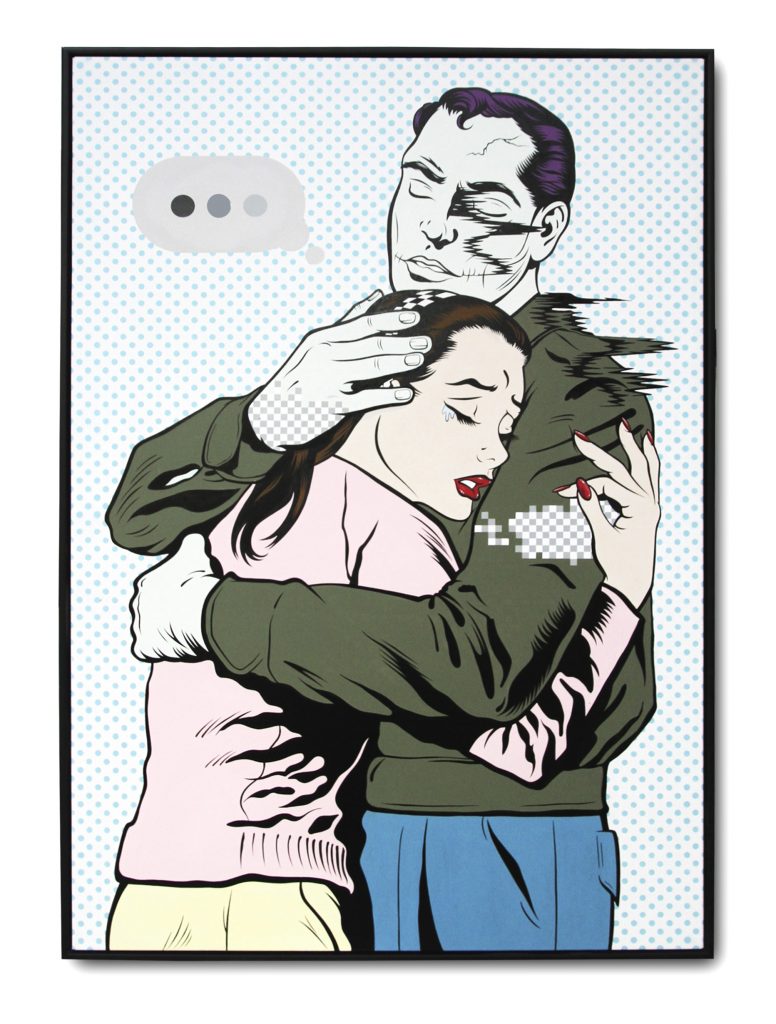 The artistic technique
D*Face's artistic technique varies from the use of spray paint, stickers, posters and stencils. His artistic style draws inspiration from the pop art imagery with references to the work of Andy Warhol and Roy Lichtenstein. In particular, among the works, D*face, realizes the HPM. The HPM (Hand Painted Multiple) editions are halfway between an original print and canvas and are made exclusively in limited editions.
As for a canvas, also for HPM the first part of the process is the application of color where the artist experiences greater originality; only in a second moment do we proceed with the printing on it.
Each work is almost a unique piece!
Little curiosity: D*face is very close to the artist Shepard Fairey, who showed him the potential of the silk-screen technique to produce stickers in series and was an inspiration for the creation of the posters that D*face still creates. Did you know the art of D*face? We are waiting for you in the gallery to come and discover the ironic and irreverent works of the London artist 😊