Welcome back to our Street Art blog!
Today we're talking about Space Invader again! We're sure you are fans and experts of Invader's mosaics and his invasions, but how many of you know that the street artist has also exhibited in prestigious museums while remaining anonymous?
Invader at the Louvre
The first time Invader entered a museum as an artist was in 1998 and it was a grand entrance (even if uninvited😉): the street artist invaded France's most important museum, the Louvre!
Invader installed ten Space Invaders hidden in the halls and corridors, becoming the only living artist on display in the museum.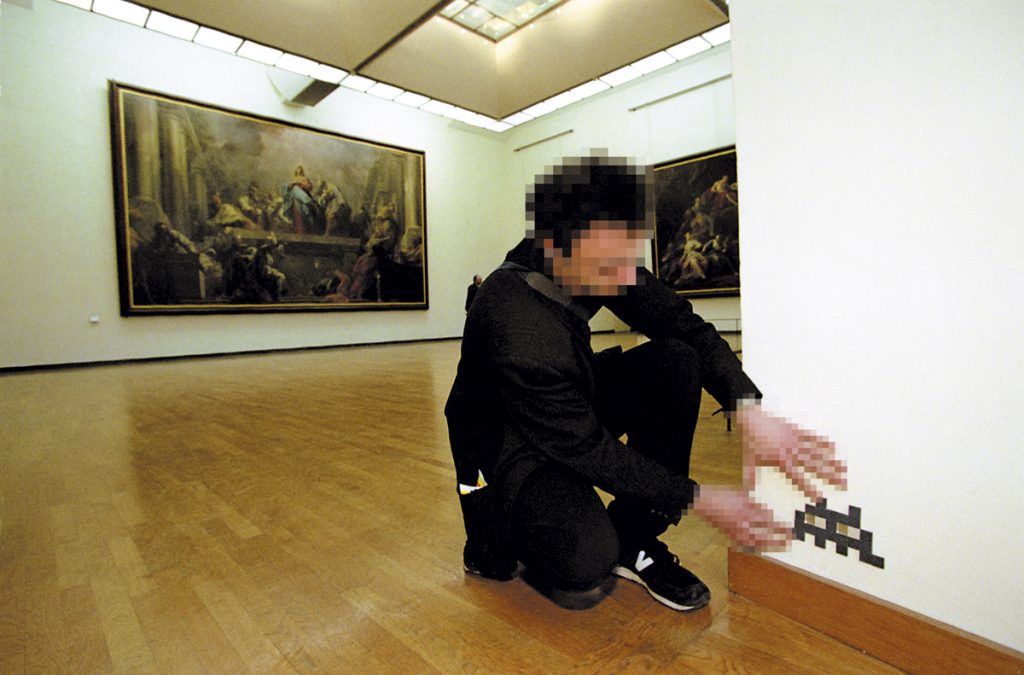 Today some of the mosaics have been removed, but many others are still where our artist had placed them. If you ever go to the Louvre, don't forget to spot these little works of Street Art and report them on the Flashinvaders app!
Since then, a lot of time has passed and today Invader is a recognised artist, appreciated all over the world and invited to exhibit in famous institutions and museums of contemporary art.
Here are his last three exhibitions! 🤩
Invader: Wipe Out (2015)
Wipe Out is Invader's first solo exhibition in Hong Kong at The Qube PMQ and organised by HOCA – Hong Kong Contemporary Art Foundation with Le French May in 2015.
The exhibition was tailored by the French street artist to the city, its socio-political conditions and especially in response to the removal of 90% of its mosaics. In the exhibition rooms of Wipe Out you can find alias1 or reproductions of the removed pieces of his past invasions together with documentary photographs of the original works in the public space.
Invader's works were particularly popular because they depicted characters from Chinese popular culture such as Pac-Man or Hong Kong Phooey.
For this solo exhibition and the new invasion in the city in 2014, Invader comes up with the Invasion Guide 06 Wipe Out – in Hong Kong!
Invader: Hello My Game Is… (2017)
"I myself have often drawn inspiration from the world of childhood. Besides, who but an adult with the soul of a child could devote his life to invading the world with video game characters?"
Invader
With this premise opens the solo exhibition Hello My Game Is… visited in January 2017 at the Musée en Herbe, the children's art museum in Paris.
The exhibition aimed to engage the little boy in all of us through a route with interactive rooms: a world map with the 67 cities invaded and a wall of magnets to allow children to recreate 8-bit works in full Rubikcubism style. PA_1085, a work composed of 1,320 Rubik's cubes, the largest piece created so far by Invader, was also exhibited here!
Invader: Prints on Paper (2020)
Between 2020 and 2021 Invader was in Ljubljana for his second invasion of the city with 22 new mosaics, but above all for his solo exhibition Prints on Paper at the MGLC, the International Centre for Graphic Arts in the Slovenian capital. This was an opportunity to present to the public all the fine art prints he has produced over the past 20 years. That's right, Invader is best known for his Space Invaders mosaics, but over the years he has also produced prints. The artist's idea is to be able to share his art with as many people as possible!
If you want to keep up to date with our street artists, keep following us. See you soon!
Have a nice day Street Art lovers🤩