Among the great masters of Street Art, we have often talked about one of the best-known artists in the world of graffiti: JonOne.
This article is meant to be an in-depth look at the works exclusively on display at the Sun-Downs exhibition at Wunderkammern Rome. Compared to the works realised for the exhibition Niente può fermarmi at Palazzo Velli and for the exhibition Vibrations at our Milan venue, this time the artist presented a series of works on paper.
The artistic technique: gouache
The artistic technique favoured by JonOne, recurring in all the works in the exhibition, is the gouache.
Gouache is a type of painting art that is similar to oil painting, but unlike it is not a permanent paint, so the colours can be changed or modified by adding water. For this reason and because of the speed with which the colour dries, this technique has been used since antiquity, especially for paintings or sketches. The idea inherent in the technique makes these JonOne's works a bit like sketches, a bit like unique pieces in which the artist creates experimental works with nuances with both colours and shapes.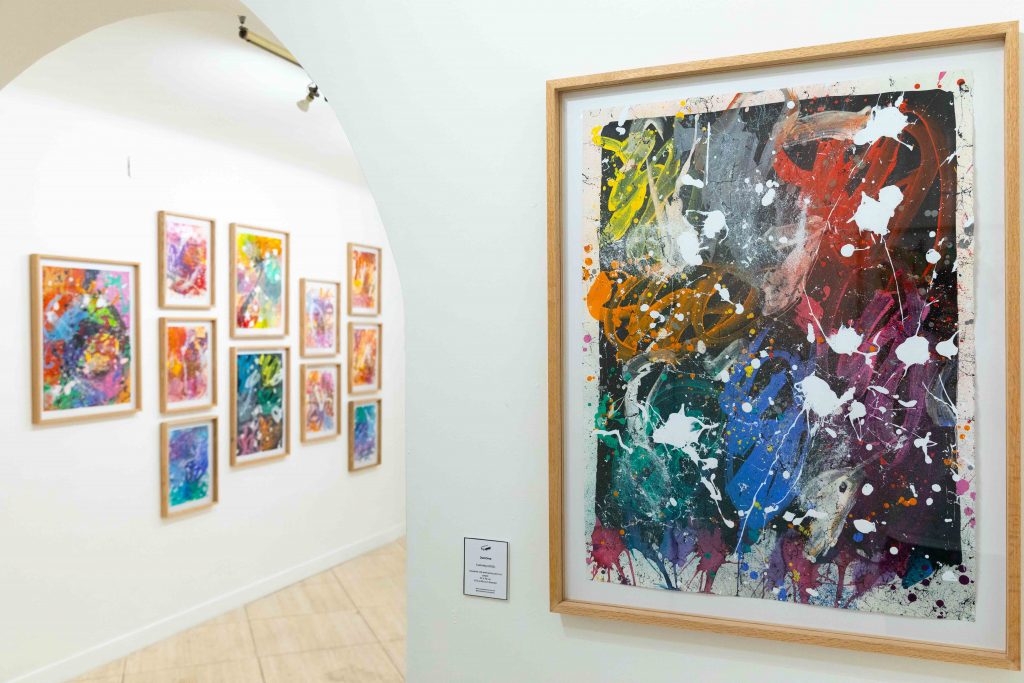 Abstract Expressionism and Writing
Still between Street Art and graffiti, JonOne's roots lie in the art of writing on walls – Writing – in which he repeats his signature countless times.
When looking closely at Sun-Downs' works, the JonOne tag is suddenly lost in the colours and one moves from Writing to absolute Abstract Expressionism. The works are explosions of colour alternating with violent marks on paper, in which the artist creates lines that are increasingly irrational and far from the initial JonOne signature.
Are you interested in seeing these artworks?
You can find them in our Rome and Milan venues, or you can reach out to us at the email wunderkammern@wunderkammern.net to receive the catalogue!😊