As we have already seen in previous articles, artist Shepard Fairey (OBEY) is one of the major contemporary exponents of street art.
It's the '90s and Shepard Fairey studies at the prestigious Rhode Island School of Design. Here idea what will be a campaign of worldwide success, filling the streets of Providence with a series of stickers. But what do these stickers depict? A mysterious image, depicting the face of wrestler André The Giant. Under the image of André The Giant Shepard Fairey inserts an inscription: "André The Giant has a Posse 7′ 5″ 520 lb" (André The Giant has a Posse). The choice is random, but the meaning behind it is immediate: a simple image can have a great impact. This is where Shepard Fairey's interest in images and portraits and his ability to turn them into icons comes from.
These stickers depicting the famous wrestler are spread everywhere: the artist distributes them within the skater community, to which he himself belongs.
A few years later, in 1994, the photo of the giant is replaced by a stylized image to avoid lawsuits, and the writing is replaced by the word OBEY.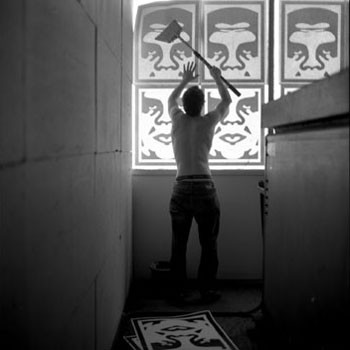 But why the word OBEY?
Fairey realizes the power of images and how they are used for propaganda purposes. Moreover, social dogmas impose precise choices: obey, obey, obey. With his art Shepard Fairey invites the public to reflect on the meaning of the word freedom and to understand how it is lacking, at the same time, within the rigid system of contemporary society.
Shepard becomes aware of how he can use art to convey his message, paradoxically the opposite of what is literally written, but rather an invitation to disobedience! It is also meant to be a tribute to one of Shepard Fairey's favorite films, They Live (1988) by director John Carpenter in which the words OBEY! can be seen on some of the signs. Shepard in fact credits this film as a great source of inspiration:
"They Live was … the basis for my use of the word 'obey.' The film has a very strong message about the power of commercialism and the way people are manipulated by advertising. One of my main concepts […] was that obedience is the most valuable currency. People rarely consider how much power they sacrifice by blindly following the marketing agenda of a selfish society, and how their spending habits reflect the direction in which they choose to transfer power. In They Live, the protagonist discovers hidden messages lurking behind billboards and anything commercial, and money says "THIS IS YOUR GOD" on blank paper."
From that moment Shepard Fairey will also be known as OBEY and his logo will become the graphic stylization of the wrestler's face, becoming one of the most important street artists in the world.
Keep following us for more interesting insights 🙂