Welcome back to our street art blog! Today we will talk about one of the most interesting street artists on the French and international scene: L'Atlas!
Born in Paris in 1978, Jules Dedet Granel began in the early 90's with graffiti writing, under the pseudonym of L'Atlas. The artist saw in this practice a free and pure gesture, close to calligraphy. In fact, shortly thereafter he became more and more interested in the art of writing, traveling all over the world and studying Arabic, Hebrew and Chinese calligraphy in particular.
L'Atlas graffiti
L'Atlas thus comes to mix the spirits of the ancient art of calligraphy together with the contemporary one of graffiti. Arriving to create what he defines as a universal language, which reaches everyone, without the limits of different cultures; it is actually a new alphabet created by the artist himself.
His art is the synthesis of many influences including kinetic and gestural art, geometric abstraction and Land Art but also archeology and architecture; his, is a hybrid art, at the crossroads of different styles. For example, from his travels in the Middle East he brought back the kufi style in which calligraphy and architecture are linked. Or again, his compass was trodden by the aerial plane of the Teotihuacan temple near Mexico City. L'Atlas brings together archeology, topography and graffiti (in each of his works you can find his name written, the inevitable signature of the street artists).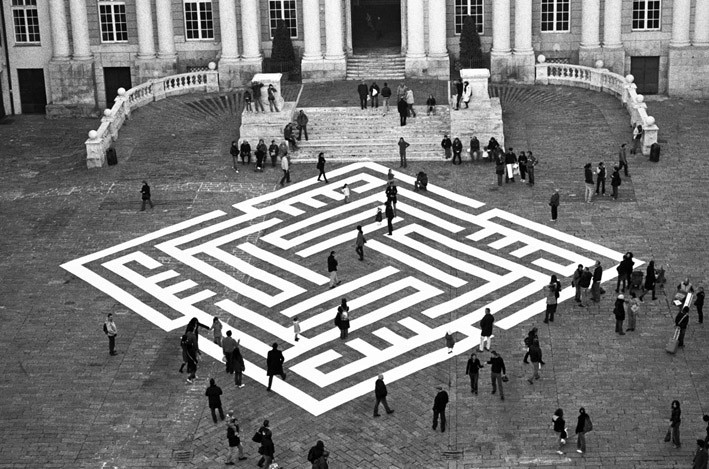 The labyrinth and the compass
The works of L'Atlas bring writing towards calligraphic and geometric abstraction, creating labyrinths, mirrors of the city. Using tape, the artist creates works, including monumental ones, in which he plays with fullness and emptiness, with form and counter-form. Following the principle of Chinese calligraphy, he focuses on the form and looks at the gaps to see if it is perfect. The labyrinths of L'Atlas are metaphors of the system, of the state, of what dominates, in which the small citizen gets lost.
Similarly, the artist also made compasses. By placing them around Paris, in places where they were really needed, in key places where there was no pedestrian signage and people needed to orient themselves. Therefore, as a sort of denunciation and solution to the neglected problem, L'Atlas has created compasses that really indicate the cardinal points, without giving up the essence of graffiti (his name is always hidden in its drawings) and making something useful. The artist also understands it as an inner compass, which can help us find our place in the world.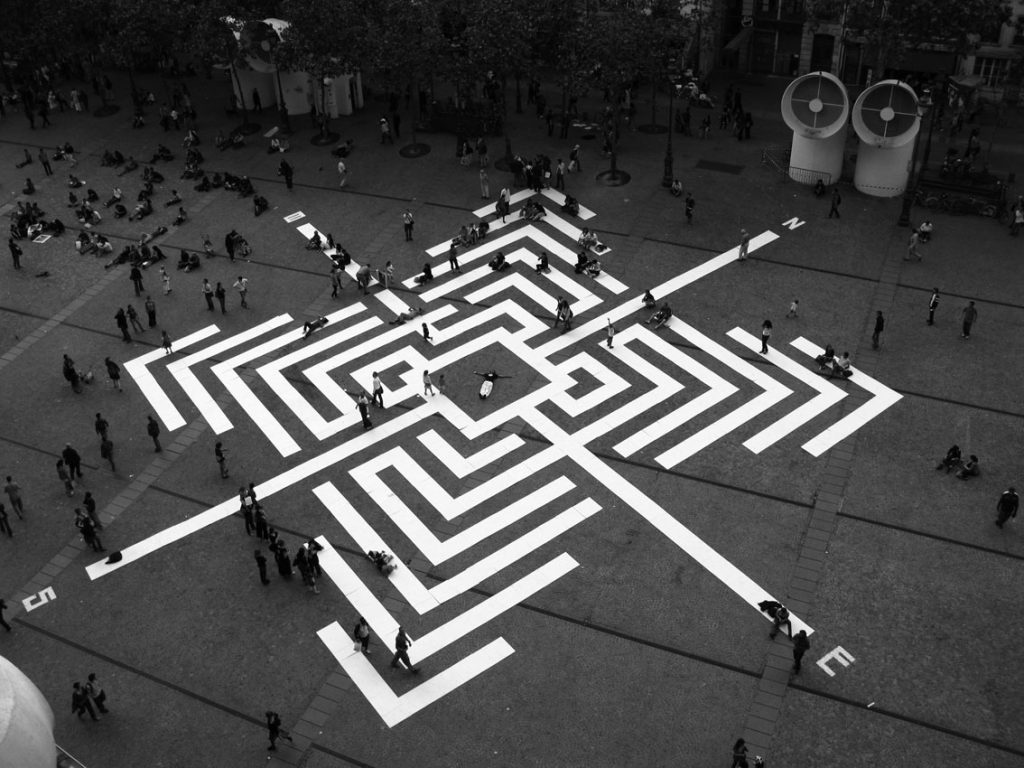 The labyrinth and the compass. Two polar opposites yet inseparable. L'Atlas takes us into his world and his discoveries with hypnotic drawings. Keep on following us for other insights and curiosities!😊