On the occasion of the exhibition Pure Evil – Not my circus, not my monkeys at Wunderkammern in Milan, we would like to introduce you to an eclectic artist somewhere between Street Art and Pop Art, a true icon of urban art now known to all under the moniker Pure Evil.
British artist Charles Uzzell-Edwards, adopted his dramatic nickname, Pure Evil, after shooting a bunny when he was ten years old and feeling overwhelmed by guilt. Macabre and hyperbolic, the artist's moniker has influenced his aesthetic ever since, from his early graffiti tag bunnies to his tragic celebrity iconography, he always uses his art to reflect the darkness of the contemporary world.
Pure Evil: street artist
In 2015, the street artist Pure Evil invaded the streets of Tor Pignattara in Rome with dozens of coloured bunnies repeated in an almost ritualistic manner as a result of the traumatic experience. The bunnies, the artist's symbol, are an invitation to a reflection on the destruction of dreams and utopias. The works in the street anticipated by a few days the indoor Wunderkammern gallery exhibition Echoes.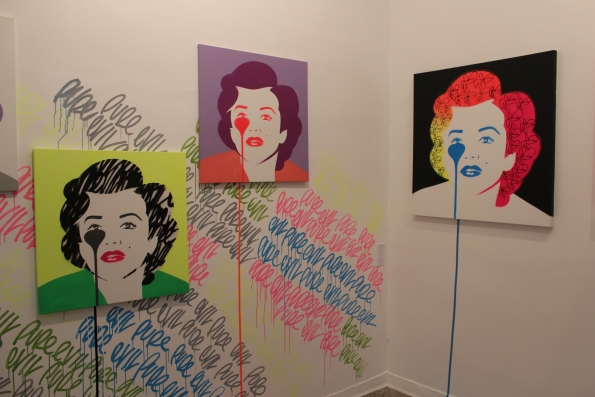 But his work did not end there! In fact, Pure Evil's art has also arrived in the city centre, as the artist has been the protagonist of live painting sessions in Piazza Navona and on the Tiber Island, in which he has created silkscreens in front of passers-by.
Pure Evil: Nightmare series
Stencil, spray, ink, marker and acrylic on canvas are the techniques he uses in his works, particularly in his famous Nightmare series, in which Pure Evil portrays Hollywood pop stars in a 'dark' version, marked by a tear. And why do they cry? "It's an illustration of the sadness and personal pain we've all experienced in relationships in the past".
Predestined female icons such as Marilyn Monroe, Sharon Tate, are portrayed in Pop print colours, while a single, heavy tear (the artist's hallmark symbol) drips down their doomed faces. An exploration of the evils of celebrity culture and the brutal realities of fandom and adulation, the instantly recognisable Nightmare series returned to the exhibition in Milan.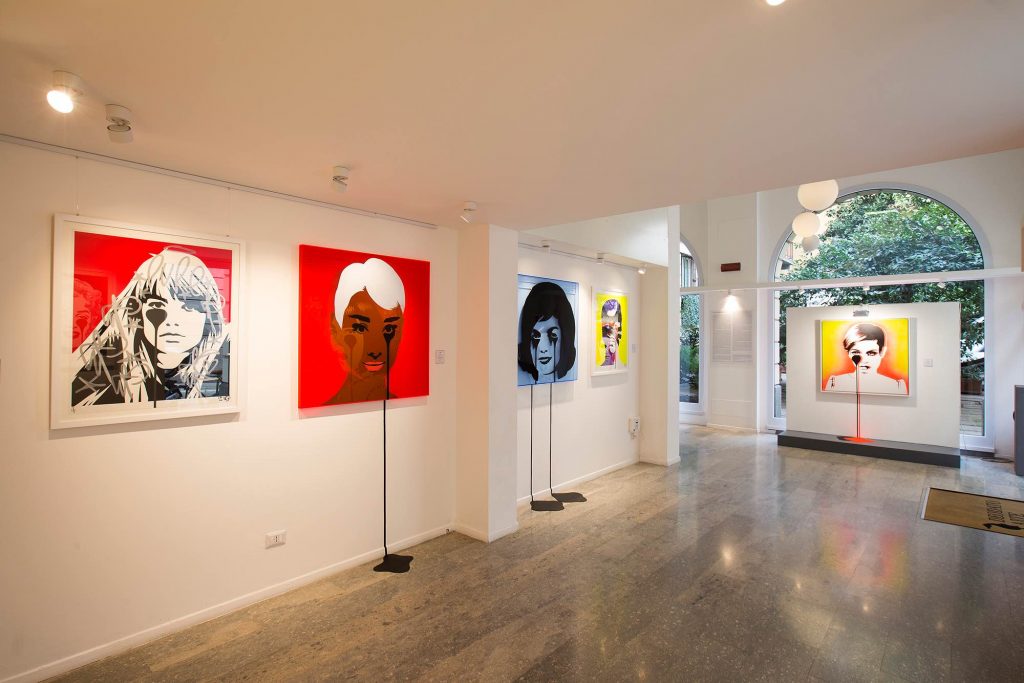 Reach out to us at wunderkammern@wunderkammern.net if you have not yet discovered all of Pure Evil artworks and you are intrigued to know more!